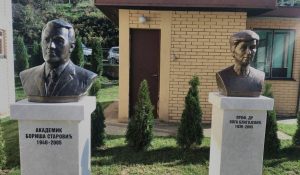 Borisa Starovic was born in Sarajevo in 1940. He finished classical high school in his hometown in 1958 and in the same year became a student of medicine. In 1964, he graduated as one of the best students in his generation. Borisa Starovic specialized in general surgery at the Surgery Clinic of the Medical Faculty in Sarajevo in 1973. He passed subspecialist exam – plastic and reconstructive surgery in 1976. As a doctor with British Council scholarship he spent some time in the leading centers of hand surgery, plastic and reconstructive surgery and microsurgery in Great Britain (Edinburgh, Derby, London) where he started his work on the Doctoral thesis connected with reconstructive hand surgery during 1976-1977. That was the first Doctoral thesis in that field of medicine in former Yugoslavia. He successfully defended his thesis at the Medical Faculty Sarajevo in 1981.He was one of the founders of the Department of Plastic and Reconstructive Surgery at Surgery Clinic at the University Medical Center in Sarajevo. After transformation of the mentioned Clinic, in 1977, he became its first manager and remained at that position until 1993. He was involved in the teaching process at the Medical and Dentistry Faculties from 1972 when he became assisting teacher in surgery. After that, during his brilliant career, he became associate and full professor.
In 1985, he was the vice-dean at the Faculty of Medicine and in 1988 he became the dean of the mentioned institution. He remained at that position until January 1993 when he left Sarajevo. On the first day of war, on April 6, 1992, he was the victim of assassination attempt. He spent 400 days as prisoner at the Clinic which has been founded and led by him for 20 years. After leaving Sarajevo, he became the dean at the Faculty of Medicine University Sarajevo, Republic of Srpska and on September 18, 1993, he started with teaching process, organized in a form of university campus, in Clinical Center General Hospital Srbinje.
His university career was completed with the highest university position-the rector of the University Serb Sarajevo at which he remained for 6 years. He was mentor and member of 22 Master thesis and 8 Doctoral thesis at the Faculties of Medicine and Dentistry. He was coordinator or participant in more than 20 science research projects national or international.
He organized many congresses, international professional meetings and many national symposiums.
For his work, he was awarded the Sixth of April Award of the City of Sarajevo, the First of May Award of Bosnia and Herzegovina, the Medal of Labor, and in 1990 the Letter to Humanity of Yugoslavia. In November, 2002 he received Hippocrates award for his life work and in 2003 he received Great Seal for his professional achievements. His brilliant career, scientific results, contribution to science development were more than sufficient enough to put him among founders of the Academy of Science and Art of Republic of Srpska. He was associate and full member of the Academy and he was the President of the Department of Medical Sciences, Secretary General and Vice-President.
We lost a great man, an expert and a professor, a dear friend. His death resulted in numerous gaps and irreparable loss for his loved ones, students, colleagues and friends. "We do not want to sing the anthem to the giant, but we want to tremble all the arteries, and to be happy to breathe and live with him on the same day," the students said saying goodbye to their professor.

Olga Blagojevic, DMD
1939 – 2005
Olga Blagojevic, DMD, a university professor (February 18, 1939, Sarajevo – July 10, 2005, Foca), finished primary school and dental technician secondary school in Sarajevo. Afterwards, she entered the Faculty of Dentistry Sarajevo, where she graduated in 1966. Following graduation, she worked as a dentist at the Health Centre in Ilidza. She began her university career in 1970 at the Faculty of Dentistry Sarajevo as a teaching assistant in the subject Dental Prostethics. She passed the specialist exam in Dental Prostethics in 1975, and in 1978 she defended her master`s thesis called Position and place of retention bracer at the occlusal tooth, at the Faculty of Dentistry Sarajevo. In 1982, at her original faculty as well, she defended oral examination of her Doctoral dissertation under the title Bioelectrical potential of masticatory musculature and mastication pressure in rehabilitation of partial toothlessness. She was appointed an Assistant Professor in 1983, and an Associate Professor of the subject Dental Prostethics at the Faculty of Dentistry Sarajevo in 1988. Within the period from 1986 to 1990, she was exercising the function of Vice Dean at the Faculty of Dentistry Sarajevo.
In 1993, she moved to Foca, where she founded the Faculty of Dentistry. She had been performing the position of the Dean of the Faculty of Dentistry Foca since the faculty establishment until her death. In 1996, she was appointed as a Professor of Dental Prostethics at this faculty.
Under her guidance, the Faculty of Dentistry Foca had become the institution where dentists, masters and PhDs obtained their titles, but as well professional titles of specialist in various dental branches were gained.
Among her various virtues, probably the most appreciated one was her openness to the professional innovations, especially to the cooperation with other institutions, home and foreign ones, with the main aim of exchanging and sharing acquired knowledge and experience. Prof Blagojevic was an honourable member of the Council of Balkan Stomatological Society; she was managing several scientific research projects or participated in them, and was an organizer of a great number of home simposiums.